ForexTrader PRO Platform

Designed for active traders looking for an edge, this highly customisable trading platform delivers our top performance.


Plot and execute your strategies
Take your technical analysis to the next level with FOREXTrader PRO's charts. With over 70 technical indicators with fully customisable parameters, popular time intervals including tick chart and robust drawing tools, plan your strategies on professional grade charts. You can also execute trades and visually track their status directly off the charts.


Harness the power of our research
Scan up to the minute headlines integrated directly into the platform from Dow Jones Newswires and FOREXInsider commentary straight from our award winning research team. FOREXTrader PRO also gives you direct access to FOREX.com's proprietary research and analysis and independent research from Trading Central.

Make FOREXTrader PRO your own
Control your trading platform environment with FOREXTrader PRO's advanced customisation features. Change layouts, colors and themes to match your personal style. You can also set default trade and order sizes, tolerance levels and execution types – putting you in full control of your trading.


Account management made easy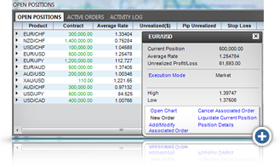 Monitor your open trades pip-by-pip with streaming account activity modules built directly into FOREXTrader PRO. Historical account activity can be accessed on demand with integrated statements and account reports.

Open a DEMO account now and try ForexTrader PRO in action!

Material is property of Forex.com and is taken with permission. Adaptatation - International Trading School d.o.o. Beograd